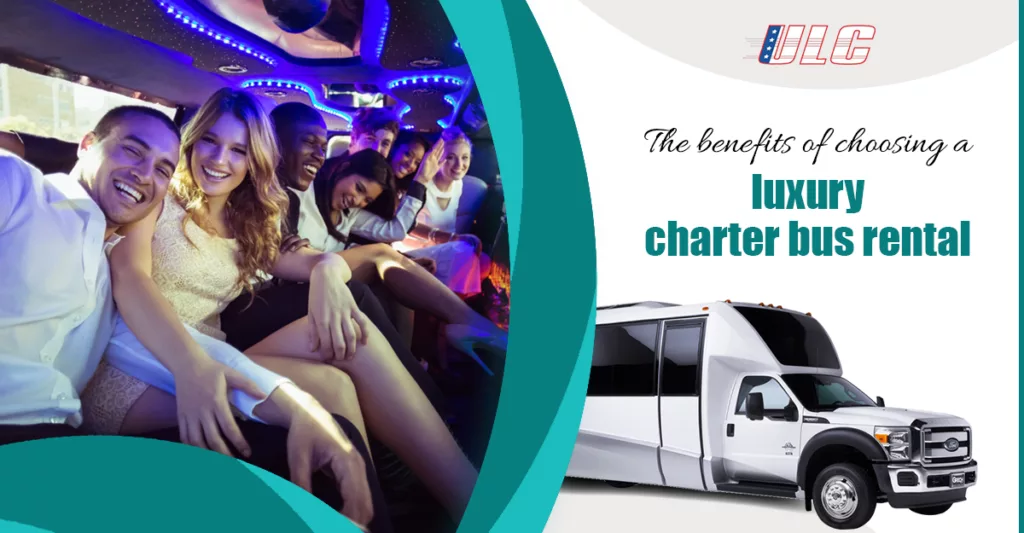 Introduction: 
When it comes to organizing a group event or a memorable celebration, transportation plays a crucial role in ensuring everyone arrives safely and in style. This is where ULC Limos comes in with their exceptional party bus service. With their luxurious charter bus rentals, you can elevate your experience to new heights. Whether you're planning a corporate outing, a bachelor or bachelorette party, a wedding, or any other special event, ULC Limos offers the perfect solution for your transportation needs. Let's explore the benefits of choosing a luxury charter bus rental for your next group gathering.
Spacious and Comfortable: One of the standout advantages of a luxury charter bus is the abundance of space it offers. ULC Limos' party buses are designed to accommodate large groups comfortably. With ample legroom, plush seating, and modern amenities, everyone can relax and enjoy the journey. Whether you're travelling short distances or embarking on a long trip, the spacious interiors of these buses ensure a comfortable and enjoyable ride for all passengers.
Entertainment on the Go: A luxury charter bus is not just a mode of transportation; it's a mobile entertainment hub. ULC Limos' party buses are equipped with state-of-the-art entertainment systems, including high-quality sound systems, LED TVs, and even dance floors. You and your group can groove to your favourite music, watch movies, or even have a dance party while en route to your destination. The entertainment options onboard ensure that the fun never stops throughout the journey.
Convenience and Safety: Choosing a luxurycharter bus rental offers the convenience of having a dedicated mode of transportation for your entire group. ULC Limos provides professional and experienced chauffeurs who will handle all the logistics, ensuring a stress-free experience for you and your guests. You don't have to worry about navigating unfamiliar routes or finding parking spaces. Sit back, relax, and let the skilled chauffeur take care of the driving while you enjoy the company of your friends or colleagues. Additionally, ULC Limos prioritizes the safety of their passengers, with well-maintained vehicles and reliable drivers who adhere to all safety regulations.
Cost-Effective Solution: Renting a luxury charter bus from ULC Limos can be a cost-effective option when compared to individual transportation arrangements. With a single vehicle accommodating a large group, you can split the cost among all participants, making it a budget-friendly choice. Additionally, you'll save on parking fees, fuel expenses, and other associated costs, making the overall transportation cost more manageable and transparent.
Customized Experience: ULC Limos understands that each event is unique, and they offer customizable packages to suit your specific requirements. Whether you need a party bus with a dance floor, a fully stocked bar, or specific decor to match your event theme, their team will work with you to create a personalized and memorable experience. From the moment you step onto the luxury charter bus until you reach your destination, every detail can be tailored to ensure an unforgettable journey.
Conclusion: 
When it comes to group transportation for a special occasion, a luxury charter bus rental from ULC Limos is a perfect choice. With spacious and comfortable interiors, entertainment options galore, convenience, safety, and cost-effectiveness, these party buses offer an unparalleled experience. From corporate events to celebratory gatherings, ULC Limos provides top-notch service that will leave you and your guests impressed. Book your luxury charter bus rental today at https://ulclimos.com/ and elevate your group transportation to a whole new level of luxury and enjoyment.