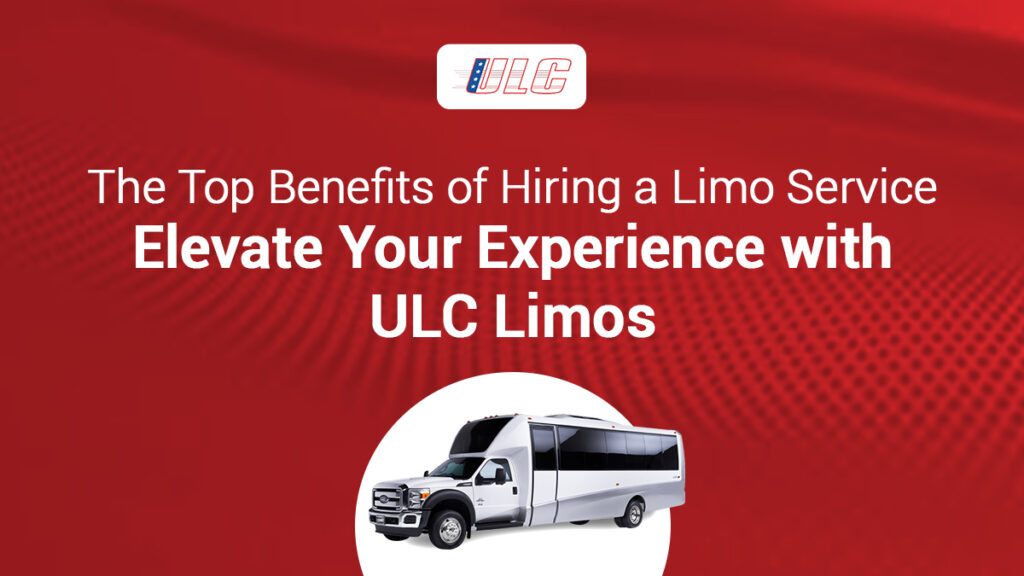 Introduction:
When it comes to special occasions, transportation plays a significant role in setting the tone for the event. Whether you're celebrating a milestone, attending a wedding, or simply enjoying a night out with friends, a limo service can add an element of luxury and convenience to your experience. ULC Limos specializes in providing exceptional transportation solutions, including party bus rentals, that cater to your comfort and style. In this article, we'll explore the top benefits of hiring a limo service and how ULC Limos can enhance your next event.
1. Arrive in Style:
Hiring a limo service allows you to make a grand entrance, whether you're attending a red carpet event or celebrating a special occasion. The elegance and sophistication of a limo instantly elevate your appearance and create a lasting impression.
2. Stress-Free Travel:
Navigating through traffic, finding parking, and coordinating multiple vehicles can be stressful, especially during big events. A limo service eliminates these worries, allowing you to sit back, relax, and enjoy the ride.
3. Professional Chauffeurs:
Limo services like ULC Limos provide experienced and professional chauffeurs who are trained to prioritize your safety, comfort, and punctuality. You can trust them to navigate the roads while you focus on enjoying the moment.
4. Group Travel Made Easy:
If you're attending an event with a group of friends or colleagues, a party bus rental offers ample space to accommodate everyone comfortably. No one gets left behind, and the party starts the moment you step into the luxurious vehicle.
5. Impressive Amenities:
Modern limos and party buses are equipped with impressive amenities such as entertainment systems, mood lighting, refreshments, and more. These features enhance your travel experience and create an enjoyable atmosphere.
6. Cost-Effective Option:
Contrary to common belief, hiring a limo service can be a cost-effective option when shared among a group. Instead of multiple individual vehicles, you can enjoy luxury transportation together, splitting the cost and making it more affordable.
7. Time Management:
A limo service ensures you arrive at your destination on time. The chauffeur's knowledge of traffic patterns and alternative routes helps you avoid delays, allowing you to make the most of your event.
8. Memorable Celebrations:
Whether it's a birthday, bachelor/bachelorette party, or prom night, a limo service adds a touch of glamour to your celebration. The experience becomes memorable not just for you but for everyone involved.
9. Versatility of Choice:
Limo services offer a range of vehicles to choose from, catering to different group sizes and preferences. You can select a classic limousine, a sleek sedan, or a spacious party bus to match your event's style.
10. Convenience and Luxury Combined:
Ultimately, a limo service provides the perfect blend of convenience and luxury. You get to experience the convenience of seamless transportation while basking in the luxurious ambience of the vehicle.
Why ULC Limos Stands Out:
ULC Limos stands out as a premier provider of limo services, including party bus rentals.
Diverse Fleet: ULC Limos offers an extensive fleet of luxury vehicles, ensuring that you find the perfect fit for your event.
Experienced Chauffeurs: The professional chauffeurs at ULC Limos prioritize your safety and provide a memorable travel experience.
Customizable Packages: ULC Limos offers customizable packages to meet your specific needs, ensuring that your experience is tailored to your preferences.
Reliability: With ULC Limos, you can trust that your transportation needs will be met with reliability and punctuality.
Conclusion:
Hiring a limo service isn't just about transportation; it's about creating an unforgettable experience that adds an extra layer of elegance to your special occasions. ULC Limos understands the significance of these moments and provides top-notch transportation solutions that blend convenience and luxury seamlessly. Contact ULC Limos to elevate your next event with a limo service that promises comfort, style, and memories to cherish.